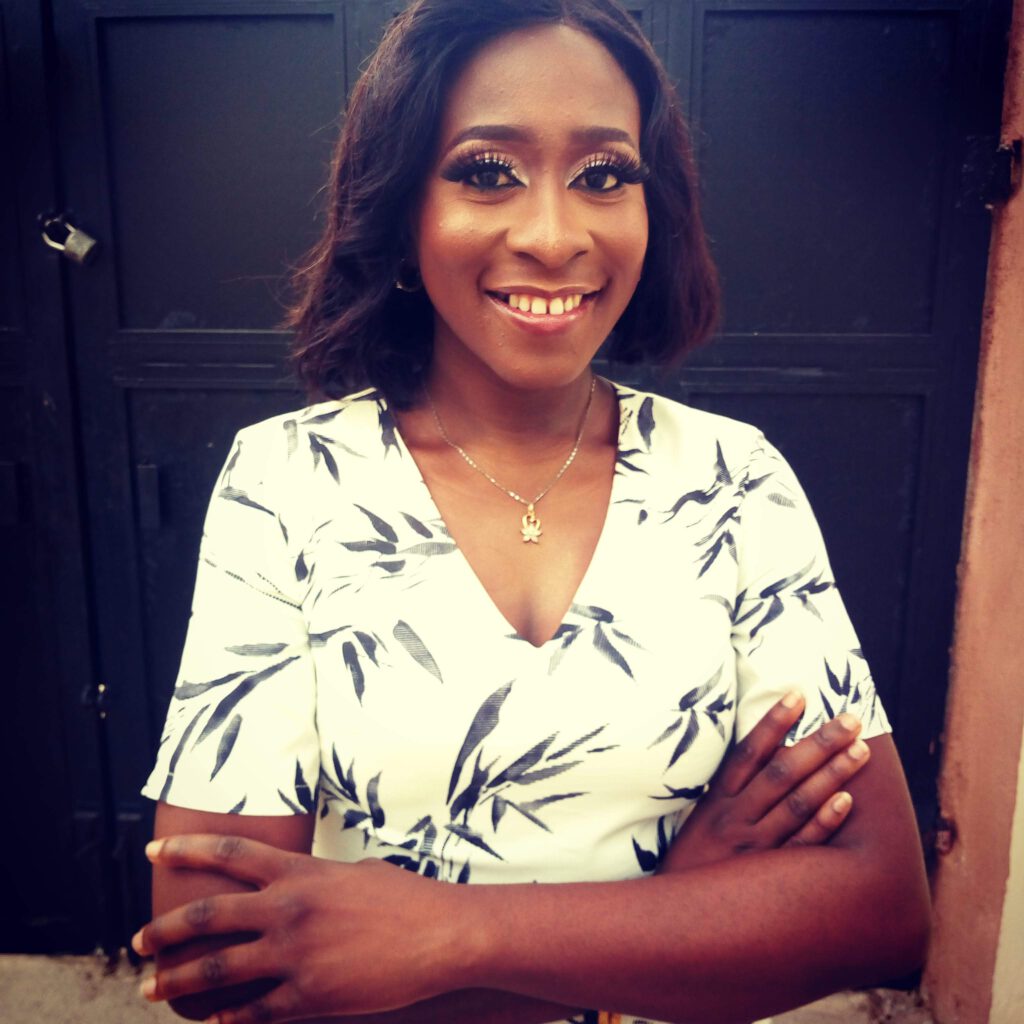 Hello lovely ladies, how are you doing? We had an interview this week with Sarah Ugbana, a beautiful woman with a beautiful heart that loves to help the elderly. She has one of the highest completion rates within the Inner Circle and we find that highly interesting. There are more interesting things to know about her. Read our interview with Sarah below:
IMMERSE: What is your name? 
SARAH: Sarah Ugbana
IMMERSE: What state or country do you currently reside?
SARAH: FCT, Nigeria
IMMERSE: What is your Date of Birth? And Why do you think your birth month is special?
SARAH: 24th May. May remains me that I am a survivor. I was always taken to the Hospital when I was born but look at me now, I am here, alive, hardly get sick or even go to the Hospital. God loves me so much that he kept me.. IMMERSE: What do you do for a living?
SARAH:A team assist to the SheTrades Commonwealth Project [ITC]
IMMERSE: What is your side business? Kindly include details like website address, Social media handles, contact numbers, etx.
SARAH: Founder of Azar Initiative [ an NGO focused within the elderly care sector];
azar-initiative.org,
@azarinitiative[ twitter, facebook, Instagram];
08086826986
IMMERSE: What projects are you currently working on? Projects you'd like the Inner Circle Community to know about? E.g A book you are about to launch, a business, and so on.
SARAH: NURTURE: it a 2 year project focused on catering for the wellbeing of older persons in rural communities by setting up workable sustainable systems that provides better healthcare for older persons and working with policy makers to set up polices that protect the rights of older persons. We are presently working with 4 rural communities in Kuje, Abuja.
IMMERSE: What Coaching Squad are you in?
SARAH: Contribute
IMMERSE: What's your favourite Inner Circle Course? Why?
SARAH: Hmm.. Do I have a favorite course; its hard to choose honestly.. Please don't make me choose [ crying face]. One out of many would be the Doability coaching series and the reason being that it gave me a new mindset and expanded it beyond capacity.
IMMERSE: What was the motivation behind your impressive completion rate? How were you able to complete multiple courses in such a short time? 
SARAH: I am always eager to learn; I believe that to make a difference you need influence and to grow influence you need knowledge. The thirst for a change of mindset is what drives me; to see differently, I need to know and learn differently.
IMMERSE: What are your expectations as an Inner circle Member?
SARAH: My expectations are to grow and just be growing; exploring knowledge and become a thought leader that can take over the elderly care sector on a global level.
IMMERSE: Let us know fun, interesting facts about you?
SARAH: I love to watch anime, read books, explore new and interesting food and loveeeeeeeeeeeeee to travel.
Now that you have met Sarah, you can follow her on social media and make connections with her. There you have it, our interview for the week with Sarah Ugbana. We hope that you have a lovely weekend. Stay safe.
Written by IMMERSE.