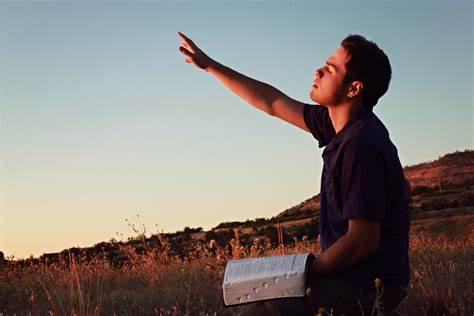 One thing I have learnt from my journey with God is that desire is not enough. When God was calling me to a deeper relationship with him, I thought all I needed was desire, all I needed was to want more of him. However, with time I realised that desire was actually not enough. It is the start, but it is not where we stop. What is desire? Desire is wishing for something or strongly wanting something, but just because you are wishing for something doesn't mean you will get what you are wishing for by just merely wishing and wanting. Many of us, that is how our relationship with God is, we stop at desire. We cry out "Lord I want more of you, or I want to know you more" and that is it. Having the desire for something doesn't mean you will have that thing; you can't stop at desire. Your desire has to be backed up by action.
SEEK
When you read scripture, you will find the word seek a lot, especially when it comes to you and God. In Jeremiah 29:13 the scripture reads "You will seek me and find me, when you seek me with all your heart". For us to really get the gist of things I think it is best to actually know what seek means, I love definitions and I am sure you guys have noticed lol! I believe when you really understand the meaning of a word you are able to get context. According to the dictionary "seek" means an attempt to find something, or to look for something, other similar words say to hunt for, and to pursue. When you look at the words here you will realise that "seek" is an action word, it requires an act.  When you lose your phone for example, you are most likely to stop all that you are doing and search extensively until you find it. So, my sisters and brothers God wants us to search for Him, to look for Him, to hunt for him even. "…seek, and you will find…" (Matthew 7:7-8). It is an act of intentionality! To seek for something will require your time and attention! All your senses are involved in the process. Again, if we go back to the lost mobile you will probably be calling the phone and really pressing in to hear where the ringing is coming from, all your senses at this point will be engaged in looking for this phone! You wouldn't say ah! I desire to find my phone and then boom the phone appears no! you started with the desire to find your phone, but you didn't stop at just desire, you took action.
We make room for the things we want
No matter how busy a person you are, you will always make room for the things that are important to you! and this is fact! You will make room for what you want! I love the song by Jonathan Mcreynolds- Make Room, it is so profound and so true check out the first few lines of the first verse:
I find space for what I treasure
I make time for what I want
I choose my priorities….
And this is true beloved, no matter how busy we are, we find space for what we treasure, we make time for what we want, and we choose our priorities! The question is not necessarily whether you desire something; it is really about your priorities and what is really taking your time. The devil doesn't really come for your desire, he comes for your time. I love how King David was always after Gods heart …" I seek you; my soul thirsts for you; my flesh faints for you, as in a dry and weary land where there is no water…" (Psalms 63:1). Imagine if you were looking for water in a dessert, you will search for it! Not just desiring it. The Holy Spirit puts the desire in our hearts, but it is up to us to pursue our desire to know God and have a deeper relationship with him.  We are to seek His presence continually (Psalm 105:4).  We start with desire, but we don't stop there.
REFLECTION
What is really taking your time? Do a 3-day time log exercise where you record everything you do in the 24 hours. Ask the Holy Spirit to help you spot time wastages you are unable to see.
Check your desire, desire is not enough but it starts from there, sometimes we don't pursue because our desire tank is low. Rate your desire tank from 1 being the lowest and 10 the highest. If its low ask the Holy spirit to set your heart on fire for God again, if it is high, it's time to seek Him with all your heart.
Take action! Start seeking, searching and hunting, how? Start with the word, be intentional about it, look for God in everything, even in the seemingly mundane things.
Remember Jesus loves you!
Stay blessed and be a blessing
Written by Lisa Maxwell