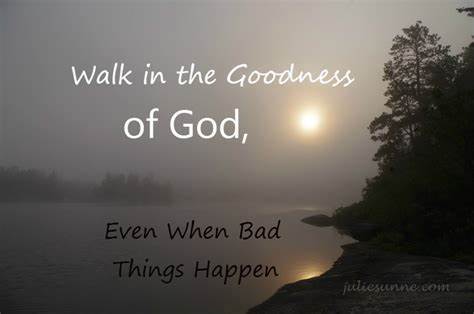 The goodness of God is not confined to what you have or don't have. It is independent of the prayers he answered or did not answer…at least in the way you expected.
It's so easy to drift into the place where when we get a huge bank alert, we do a dance and scream "God is good!" . When that Visa pulls through we shout, "God is good!" What about the times when the reverse happens? Did He stop being good? Do we still dance and say He is good?
About a year ago, the reality of this was reinforced in my life.
Someone had sent me a link to an amazing and incredible job. Work from home, earn great pay, still have time for my family and not have to spend hours in Lagos traffic on trips to and from work. Now this sounded like the way I've always wanted my life! I tapped on my key pads, filled column after column, each tap  bringing me closer to the new level. Language proficiency test score popped up at 100%. Oh, I did a jig and scrolled to the next stage, now I could smell the dollars, see my life change, see my bank account pop in all the shades of pink! Oh, I didn't mention, the pay was in dollars!
On to the next phase and the next and then…the glitches pop up! "I gat this," I said, and with support from team hubby, we swing into action, try a different laptop, upgrade internet service provider, finally get a new modem altogether and my data speed is just popping! I sit before my examiner for a demo lesson , waiting to just get past her to a new financial status. Test is done and hours later, in my mail box sits that mail that is the most polite you'd ever read yet one that screams a rude reawakening at you!…"We are sorry, there were too many technical glitches in the course of your test…"
Here's what that means, this momma right here has had a lid slammed on her dream job! I was "shook"! I wasn't even prepared for the weight of disappointment I felt and all I could do was just sit somewhere and cry. Not to worry, I'm fine being vulnerable for someone out there to read this and draw strength from Jesus . It is not a crime to cry but what you do afterwards is key. So as I sat there, feeling really bad and refusing to be consoled , right at that moment, the song Excess Love by Mercy Chinwo begins to play somewhere in the neighborhood. I have heard that song so many times so it wasn't new but right at that time, as she sang "Jesus you love me too much o!" the essence of the death, burial and resurrection of Jesus began to play out before me. God sent his son to bring us into sonship and not to bring us into things! How big that suddenly looked. I began to exult in my spirit. I began to see afresh that Jesus dying for me was the greatest thing that could ever happen to me! It was the greatest privilege of life. Layers of pain peeled off my heart and trust me, the weight just rolled off. Because the lesser is included in the greater, peace filled my heart and my perspective shifted!
They didn't get to call me back. I didn't get that miraculous shift in the verdict but I had gained something more than money! I had stepped into that place where the goodness of God is not about what I see or don't see but about the totality of who He is. A God who could give His only son, cause the gospel to reach us in our darkness, freely give us the Holy Spirit has to be a good God!
Rest here today, regardless of how many doors shut in your face. Leave the place where you see God's goodness only in the face of things happening the way you plan.
So many times, that seeming disappointment was God shielding you from pain you don't know enough to shield yourself from because of his unending goodness to you. The next time that happens, rejoice and thank Him because He is a good God regardless of circumstances!
"And we know that in all things God works for the good of those who love him, who have been called according to his purpose." Romans 8:28
Written by Meekay Writes